Today on Tend Her Wild Kate and Betsy cover the topic of how women can continue to show up for other women.  This is a topic we had been considering and after being inspired by Jamie Lee Curtis' support of Michelle Yeoh at the Golden Globes we decided it was time to dive in and take the opportunity to discuss how this moment is an opportunity to be more conscious of how we champion other women in our lives.
Join us in healing community
Costa Rica, May 20-27
Tend Her Wild Costa Rica Retreat
May 20-27, 2023
https://bluespiritcostarica.com/retreat/betsy-rippentrop/
Join us today as we discuss:
-The power of being our authentic selves and the importance of showing up for one another
-The power of feminine transformation, energy and bonding that allows for deep healing of the feminine in retreat
-Creating a safe container during retreat that helps us to express ourselves openly in a group
-The magic of being seen and heard by your sisters
-Seeing beauty in yourself and stepping into your truth without jealousy or fear when we're in a safe space
-The spaciousness, joy and expansiveness created in safe space
-How do we hold onto these experiences in the "real world"?
-Qualities of the "dark feminine" and how we manage the past wounding from other women
-The need for conscious community and power of processing our stuff together
-Avoiding the need to bond through gossip
-The difference between envy and jealousy as described by Brene' Brown
-The scarcity mindset vs the abundance mindset
-Distinct ways we can champion and show up for other women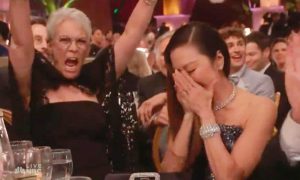 I said "Your hair looked amazing" but what I really wanted to say was your energy sparks a little a little bit of something in mine. Your smile warms my heart and when you laugh I just have to laugh too. It's like a bubbling stream of fresh water running through my soul.  I feel like the sun is shining on me when you're near and when I leave you, as sad as it is, I feel like I've been charged, plugged in to the mains for an infusion of fizz and life but I said "I love your shoes" instead.  I hope you heard what I really meant.  -Donna Ashworth
This week we begin to champion a woman each week!
Today Tend Her Wild champions:
Jacinda Ardern, Prime Minister of New Zealand 
Resignation Video
Podcast: Play in new window | Download