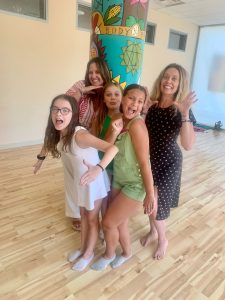 Betsy and Kate discuss their impressions of the Barbie movie, some Barbie history, and the empowerment of modern women in a patriarchal society. They highlight some powerful quotes and themes from the movie and how it resonated with them.  They also welcome some much younger guests (3 tweens ages 10 and 11) to share their impressions and inspirations.
In this episode we discuss:
The recently released Barbie movie and its exploration of themes around patriarchy and redefining femininity.

The historical context of the creation of Barbie by a woman, co-founder of Mattell, Ruth Handler in 1959.

Several themes from the movie that we've been talking about routinely on this podcast: 

Why it's impossible to be a woman in a patriarchal society

Getting out of the box

The importance (and sometimes challenge) of really feeling your feelings

We bravely bring on 3 "tweens" (Betsy's daughter and her friends) and ask them their impressions of the movie.  It was both hilarious and slightly chaotic!  But we loved that they seemed to really get the underlying "themes".
Books mentioned today:
Written by Carol Gilligan
Cassandra Speaks: When Women Are the Storytellers, the Human Story Changes 
Written by Elizabeth Lesser
Other Tend Her Wild Episodes Related to this you might like to check out:
Episode 76: Women Finding Their Voice
Episode 32: Perfectionism: A Cultural Phenomenon
Today's episode sponsored by:
Kate Moreland coaching:
http://www.katemorelandcoaching.com
Heartland Yoga:
Dr Yoga Momma:
Work with Betsy and Kate in Person on Retreat:
Join Betsy, Kate and Kimberly at Ballymaloe House, Ireland for Yoga & Meditation Retreat:
September 24-30, 2023
https://www.oneyogaglobal.com/ireland-with-betsy-rippentrop/
Join Betsy, Kate and Kimberly at a Re-Wilding Retreat in Nosara, Costa Rica:
May 11-18, 2024
https://www.oneyogaglobal.com/costa-rica-blue-spirit/
For sponsorship opportunities or to partner with us:

Podcast: Play in new window | Download